"Fovera Prostasia S.A." holds a significant position in the field of companies providing accounting, tax, payroll, and consulting services. Headquartered in Thessaloniki, our company has branches in Athens, Heraklion, and Larissa. We boast an experienced and specialized workforce and maintain a steadfast customer-centric philosophy. We offer holistic support to small, medium, and large enterprises, covering a wide range of needs.
At "Fovera Prostasia S.A.", we have the necessary collaborators for every business: accountants, tax consultants, labor experts, economists, business consultants, trainers, and marketers. Our company offers a comprehensive set of services, complementing each other, to benefit and contribute to the growth of businesses.
Services:
v Company Formations & Case Processing
v Payroll Issuance & Management
v Human Resources Recruitment & Evaluation

v Organization & Personnel Management
v Subsidized Programs Services

v Commercial & Cash Management
v Training – Executive Seminars

"Fovera Prostasia S.A." supports businesses of all sizes that seek responsible and targeted consulting. We stand by entrepreneurs, supporting their vision and taking charge of relieving them from bureaucratic and procedural matters that consume valuable time needed for the development of their businesses. Our well-trained team at Fovera Prostasia S.A. also provides reliable information and 24-hour support to our clients. We leverage modern tools and existing legislation to offer solutions that meet every business need.
Businesses choose and trust "Fovera Prostasia S.A." because:
We have years of experience – in our 30 years of operation, we have encountered numerous cases and successfully handled demanding projects.
We approach every project as consultants, always considering the client's needs and integrating modern and efficient tools and practices into the process.
We respond promptly to client requests, and each of our projects delivers tangible and measurable results.
We keep our clients constantly informed about their financial performance and obligations, enabling them to plan and maintain control.
Our staff consists of highly skilled professionals with significant expertise and professionalism.
We understand that time is of the essence for modern entrepreneurs, who must dedicate themselves to the prosperity, growth, and profit maximization of their businesses.
We provide security and peace of mind to businesses that entrust us with their affairs.
We genuinely care about the success of our clients and go the extra mile without being asked.
Our name
Our name is derived from the "Panagia Fovera Prostasia" icon (the Virgin Mary of Great Protection), which can be found at the chapel of the Koutloumousi Holy Monastery, on Mount Athos.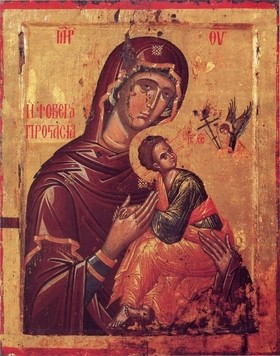 We would like to thank the abbot at the Koutloumousi Holy Monastery, Archimandrite Christodoulos, for blessing the name of our company.